Villain Of Bollywood: The actor who won millions of hearts with his acting in many films in the 60-70s became a famous villain of Bollywood. The villain without whom the film would have been incomplete. Who impressed thousands of girls with his style during that period. This star, who has been a part of many hit films, has a very special relationship with Raj Kapoor, but a time came when he was forced to go to Mount Kailash. Let us tell you what was that reason…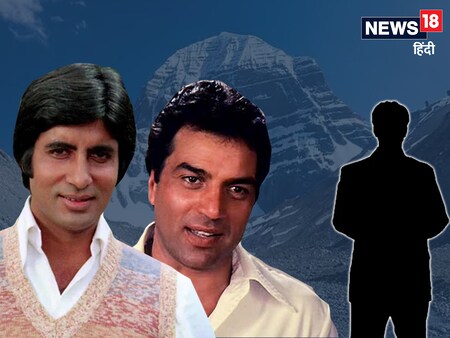 18
A tremendous actor, whose artistry made him a legendary star. People know actors like Raj Kapoor, Shammi Kapoor, Dilip Kumar, Amitabh Bachchan by their full names, but perhaps only 10 percent of cinema lovers would know the full name of this unique diamond of Bollywood. The star we are talking about today had joined the army, but fate pulled him to Mumbai. Due to his height, physique, beauty and style, he became the choice of the makers and then became an actor who charged more fees than the big stars of that era.
The actor, who won millions of hearts with his acting in many films in the 60-70s, became a famous villain of Bollywood. The villain without whom the film would have been incomplete. Who impressed thousands of girls with his style during that period. This star, who has been a part of many hit films, has a very special relationship with Raj Kapoor, but a time came when he was forced to go to Mount Kailash. Let us tell you what was that reason… Photo courtesy- @BombayBasanti/twitter
'I am being threatened in my own area… Ranjit, perhaps you are forgetting whose area you are in and what you are talking about.' If you are a Hindi cinema lover, then you would hardly have forgotten this dialogue of Premnath. Prem Nath's full name is Prem Nath Malhotra. He worked in many films like 'Badal', Johnny Mera Naam' and 'Jaani Dushman'. Photo courtesy- @BombayBasanti/twitter
Prem Nath Malhotra, born on 21 November 1926, was born in Peshawar, Pakistan. But, due to partition, his family settled in Jabalpur, Madhya Pradesh. His father was in the police, so he decided to send his son to the army. But he did not feel like going there and settled in Mayanagari to give flight to his dreams. In Mumbai, he joined Prithvi Raj Kapoor's Prithvi Theater and made the plays performed there a part of his life. Raj Kapoor seemed to be his brother-in-law. Photo courtesy- @BombayBasanti/twitter
Prem Nath did the film 'Ajit' in the year 1948 which was not successful. After this, his acting in Raj Kapoor's film 'Aag' of the same year and 'Barsaat' released in 1949 was greatly appreciated by the audience. He worked with every superhit actress in his career, which includes actresses like Ramola, Madhubala, Nikaar Sultan, Suraiya, Bina Rai. Premnath's specialty was that he was ready for every type of role. He gets the role of a villain, a character's role or a lead actor's role. He liked it, he used to play every character and also got involved in it. Photo courtesy- @BombayBasanti/twitter
At one time, his popularity increased so much that he started earning more than his brother-in-law Raj Kapoor. There was a time when Premnath's fee was Rs 1.25 lakh, while Raj Kapoor's fee was Rs 75 thousand, Devanand's fee was Rs 35 thousand and Dilip Kumar's fee was Rs 50 thousand. In that period, the fees of Amitabh and Dharmendra were also less. Photo courtesy- @BombayBasanti/twitter
During the shooting of the film 'Aurat' in 1953, he fell in love with actress Bina Rai and both decided to get married. Along with Beena, Prem Nath entered the field of film production and together they founded P.N. Films banner established. Both of them made some films together, which flopped badly. After this, Prem Nath stepped back from the field of film production and turned his entire attention towards acting.
Whatever work Premnath did in the film industry, he got the most fame from villain roles. But after a time his films also started failing at the box office. When films stopped supporting him, Premnath turned to Mount Kailash. After spending some time in peace there, he returned. Premnath Malhotra has worked in 'Ajit', 'Johnny Mera Naam', 'Aan', 'Tere Mere Sapne', 'Apna Ghar', 'Badal', 'Teesri Manzil', 'Baharon ke Sapne', 'Bobby', 'Roti Kapda' Had worked in many great films like 'Aur Makaan', 'Nagin', 'Jai Bajrang Bali', 'Jaani Dushman', 'Vishwanath', 'Karz' and 'Hum Dono'. Premnath was last seen in the film 'Hum Dono'.